You'll find so many uses for this oversized,yet still elegant, bag. Crocheted cables add dimension and style to the one bag you'll never leave home without!
PLUS SIZE CABLE BAG

CROCHET SKILL LEVEL: INTERMEDİATE
Designed by Brenda Bourg
MATERIAL NOTES
Don't forget to pick up the finishing touches for your project! Take a look at the list of supplies you'll need that aren't included in your kit.
Kit does not include:
Pair of 6½ x 5″ (16.5 x 12.5 cm) wooden purse handles
Large wooden button
Pins
SIZING NOTES
Making the right size is important! Take a look at the dimensions of your new projects and choose the one that's right for you, and always make a gauge swatch to match your tension.
Bag measures 16″ (40.5 cm) tall, 18″ (45.5 cm) wide (from side to side), and 5″ (12.5 cm) deep (from front to back)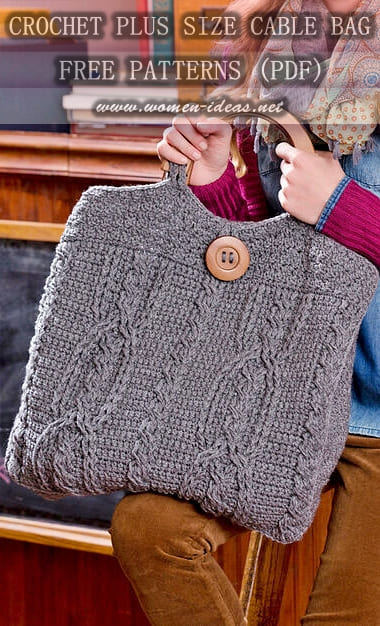 PATTERN CARE
Treat your finished project right! Make sure you read the care directions closely so your hard work ages gracefully.
Do Not Bleach
Do Not Iron
Machine Wash in Warm Water
Tumble Dry